11" x 14" x 8" - 6 Wine Bottle Grocery Bag
Unfortunately this product has been discontinued. Please submit a quote request below and our team of experts will help you find a suitable alternative!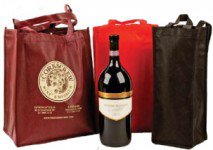 Product Description
ENVIRONMENTALLY FRIENDLY! Wine bottle bags are made from nonwoven polypropylene. They have the look and feel of fabric. 2 and 6 bottle totes have sewn-in dividers to keep bottles safe.
Item Size: 11" x 14" x 8"
Pricing Details
Setup Charges: $45 per color
Repeat order: $30 Per Color
Need help with your logo?
Ask about our Logo Design Service!