Acrylic Ornaments - Sun Catchers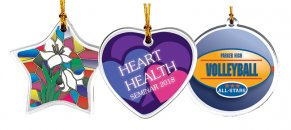 Product Description
Clear acrylic ornaments are a great and cost effective promotion. Easy to display with included suction cup and foil hang cord. Pair with Organza bags for a more elegant look. Inquire about replacing the polybags with Organza bags when placing your order!
Need help with your logo?
Ask about our Logo Design Service!