Table Covers with Your Logo
6ft Table Cover with Full Color Imprint
TF6DS
$164.00
$

135.00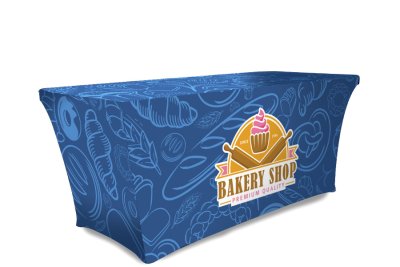 6ft Spandex Table Cover with Full Color Imprint
S6DS
$179.00
$

150.00
8ft Table Cover with Full Color Imprint
TF8DS
$179.00
$

145.00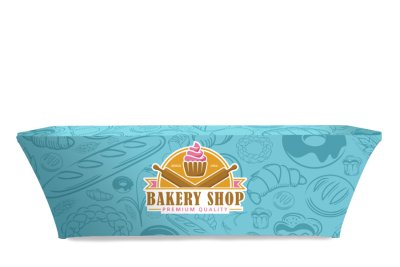 8ft Spandex Table Cover with Full Color Imprint
S8DS
$209.00
$

175.00
4ft Spandex Table Cover with Full Color Imprint
S4DSE
$194.00
$

131.00
4ft Fitted Table Cover with Full Color Imprint
TF4DS
$194.00
$

149.00
Table Covers with Full Color Imprint on Entire Cover in a variety of styles, including Throw, Fitted and Spandex. Whether you're representing your company at trade shows, your place of business or any social events, table covers are the most exciting and cost-effective way to show off your company's logo and any other information and graphics of your choosing! The first impression is always the most important one, and table covers are unequaled as the top advertisement for your goods and services that will leave a lasting impression on your customers! They invite everyone around to check out what you have to offer in an assortment of styles and sizes sure to match any table you may have!
Though the possibilities are endless and we accommodate every table size and style, we have three main styles of table covers to choose from:
Throw-Style - These table covers are designed to be easily draped over your table and sit on your table flowingly and elegantly. Tried and true, this style has been popular for as long as promotion has been an industry and it's more effective than ever!
Fitted - With a boxed, solid look, these table covers drape directly down your table and offer a sturdy appearance. Like the throw style, it is very easy to store your merchandise and trade show supplies underneath this table cover style with the open-back option.
Spandex - If you're looking for the tightest fitting table cover, look no further! Spandex table covers follow your table's curves for a sleek look that draw any potential customer's eyes to your logo with its angular shape. They also stretch and have fittings at all four bottom corners so that they cling firmly to the shape of your table!
Other table covers we offer include open-backed (or 3-sided), convertible table covers to fit multiple table sizes, round table covers and a gamut of other styles that fit your exact needs for your next trade show or event!
There are two methods we use to decorate our table covers and both of them come with outstanding perks:
Screen Printing - This method allows for a bold, visually appealing front-panel imprint that is both cost-effective and stylish. If you want your logo to stand out on the front panel of your table cover, you may choose from our list of swatches to find the perfect color to represent your business or industry and compliment your unique logo!
Full Dye Sublimation - If you're looking to cover your entire table cover with a unique, eye-catching design than this is the method for you! You can repeat your logo throughout the entire table cover, or create a colorful pattern to attract your customer's eye. There is no limit to the possibilities of color schemes and designs you can incorporate into your entire table cover design!