10ft Curve Velcro Fabric Pop Up Display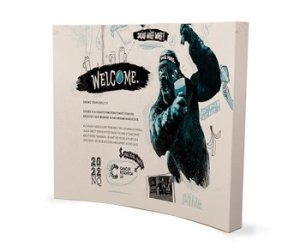 Product Description
The pop-up display is so quick and easy to assemble with its pop-up mechanism. Attached fabric graphic on to the pop-up frame with Velcro, and folded along with the frame for storage or transport. When your next show comes around, simply expand the pop-up frame, and your graphic will expands with it.
Features:
High resolution digitally printed at 720 x 720

Dye sublimation

Scratch resistant
Washable
Material:
Size and Weight :
Display Size: 112"W x 89"H x 24"D
Graphic Size: 134"W x 89.5"H
Weight (w/ soft canvas bag): 31 lbs
Need help with your logo?
Ask about our Logo Design Service!