Mood Sports Bottle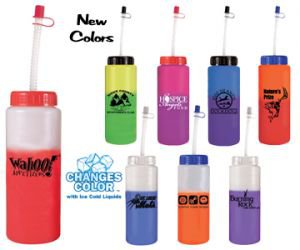 Product Description
• Changes colors with ice cold liquids • 2 lid options available • Wide mouth opening • Large imprint area • 4 vibrant colors offered
Item Colors: Frosted to Blue, Frosted to Red, Frosted to Purple, Frosted to Orange.
Pricing Details
Setup: Add $40.00 for new orders. No set-up charge on exact reorders.
Multi-Color Imprint: Available on one side only. Registration will vary 1/8" in any direction making close registration impossible. Add $35.00 set-up charge per color, plus $.30 running charge per bottle, per color. 500 pc. min. for multiple color imprints.
Ink Color Match: $40.00 per color, per order. Cannot guarantee exact match on colored surfaces.
Additional Artwork: $50.00 per hour.
Change Copy: $35.00 per change.
Change Ink: $25.00 per change.
Proof: E-Proofs $10.00 each. Paper proofs $12.50 each. Product proofs $35.00 each, per color. Artwork charges are additional if required.