10ft Straight Tension Fabric Display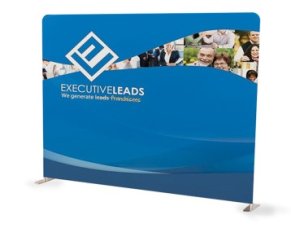 Product Description
Our Tension Displays consist of a lightweight but durable aluminum hardware and a Fabric Dye-Sublimated Print. The hardware is inserted inside the print, much like a pillow into a pillowcase. The fabric print is stretched tight across the frame and zipped close.
Features:
High resolution digitally printed at 720 x 720
Optional double sided is available
Dye sublimation
Scratch resistant
Washable
Material:
Display Size: 112"W x 89"H
Graphic Size: 115"W x 89.5"H
Weight (w/ soft canvas bag): 34 lbs
Need help with your logo?
Ask about our Logo Design Service!